Tony Hsieh - CEO of Zappos and the Author of "Delivering Happiness"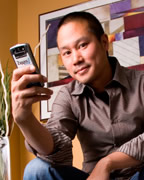 Tony Hsieh originally got involved with Zappos as an advisor and investor in 1999, about 2 months after the company was founded. Over time, Tony ended up spending more and more time with the company because it was both the most fun and the most promising out of all the companies that he was involved with. He eventually joined Zappos full time in 2000. Under his leadership, Zappos has grown gross merchandise sales from $1.6M in 2000 to over $1 billion in 2008 by focusing relentlessly on customer service. In November 2009, the company was acquired by Amazon for $1.2B.
Tony focuses on continuing to grow the business at a rapid pace while maintaining the culture and feel of a small company. Prior to joining Zappos, Tony co-founded Venture Frogs with Alfred Lin. Venture Frogs is an incubator and investment firm that invested in Internet startups, including Ask Jeeves, Tellme Networks, and of course, Zappos.com. Prior to Venture Frogs, Tony co-founded LinkExchange, an advertising network that was successfully sold to Microsoft for $265M in 1998.
Tony met Alfred Lin (COO/CFO) in college, when Tony was running a pizza business and Alfred was his #1 customer.
Tony holds a degree in Computer Science from Harvard University.
view more ▼
Bob McKnight – Chairman of the Board, CEO and President, Quiksilver Inc.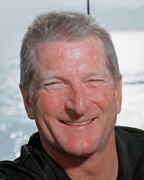 Bob McKnight has taken Quiksilver from start-up to the world's leading outdoor sports lifestyle company.
He founded the company in 1976 following an Indonesia surfing trip where he met professional surfer and future business partner Jeff Hakman. Together the two grew the business to $18M in sales in 10 years. In 1986, Quiksilver became the first board riding company to go public and in the years since it has experienced many other firsts including being the first board riding company to open concept retail stores and the first to break through $1B in sales.
Today, Quiksilver operates 18 brands, has 3,000 employees and sells its products in over 90 countries. Bob and his team have created more than a brand—they have created a culture that influences many facets of American life. Yet, despite its size and tremendous success, Quiksilver continues to operate like a small family company.
Bob holds a degree in Business Administration, Marketing and Management from the University of Southern California . He has spent his entire professional career at the helm of Quiksilver.
view more ▼